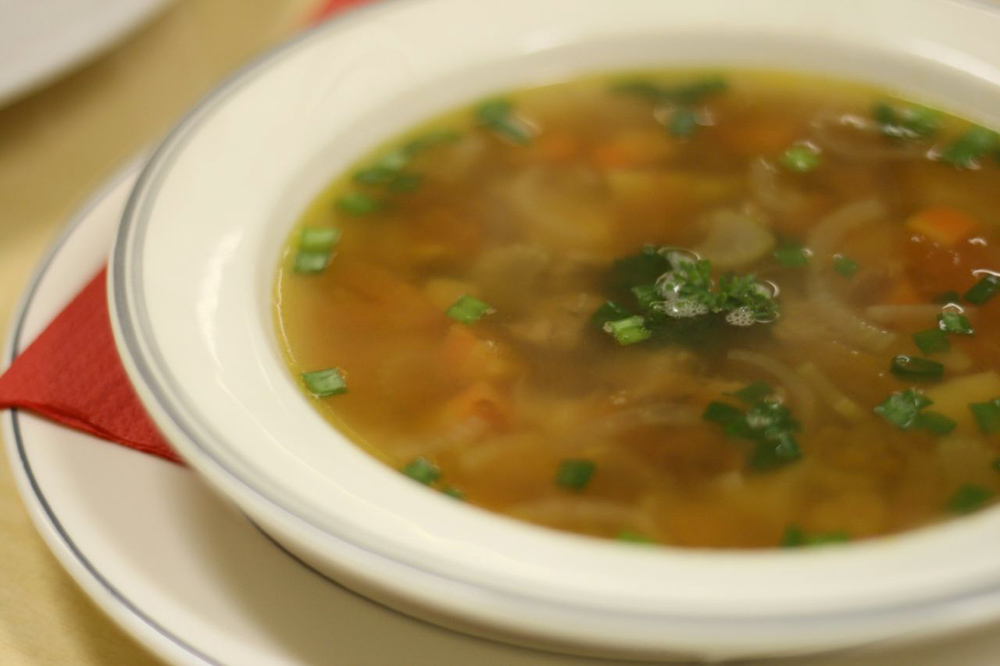 This recipe for Estonian "farmer's soup" calls for a wide range of ingredients. Talupojasupp was created as a way to use leftovers before they spoiled at a time when refrigeration was not commonly available. Also called "leftover soup," talupojasupp combines meat and vegetables into a delicious, hearty dish with a filling barley base. Recipe Servings: Serves 6
Prep Time 15 minutes
Cook Time 1 hour 15 minutes
Total Time 1 hour 30 minutes
Vegetarian
Vegan
Gluten Free
Dairy Free
Kosher
Halal
Ingredients
1/4 cup (60 ml) dried barley
2 Tbsp (30 g) unsalted butter
2 Tbsp (30 ml) vegetable oil
1 medium onion, chopped
1 cup (150 g) green cabbage, chopped
6 cups (1.4 l) broth
1/2 rutabaga, diced
1 large russet or yukon gold potato, peeled and diced
1 carrot, peeled and diced
1 cup (150 g) cooked meat, diced
Chopped fresh parsley for garnish
Directions
Soak the barley in 1/4 cup (60 ml) of cold water and set aside.
In a large pot, heat the butter and oil. Add the onion and cabbage and sauté on low heat for about 15 minutes, or until the onions are beginning to soften and turn golden.
Add the stock and the barley and bring the pot to a low boil. Simmer the mixture gently for about 30 minutes, then add the rutabaga, potatoes, and carrots, and simmer for another 20–30 minutes. Stir in the cooked meat just before serving. Garnish with chopped fresh parsley.
Notes
Because this recipe is meant to be prepared with leftovers, it can produce all kinds of unexpected flavor profiles. Try using cooked fish as a replacement for cooked meat, or go vegetarian with a meatless soup.