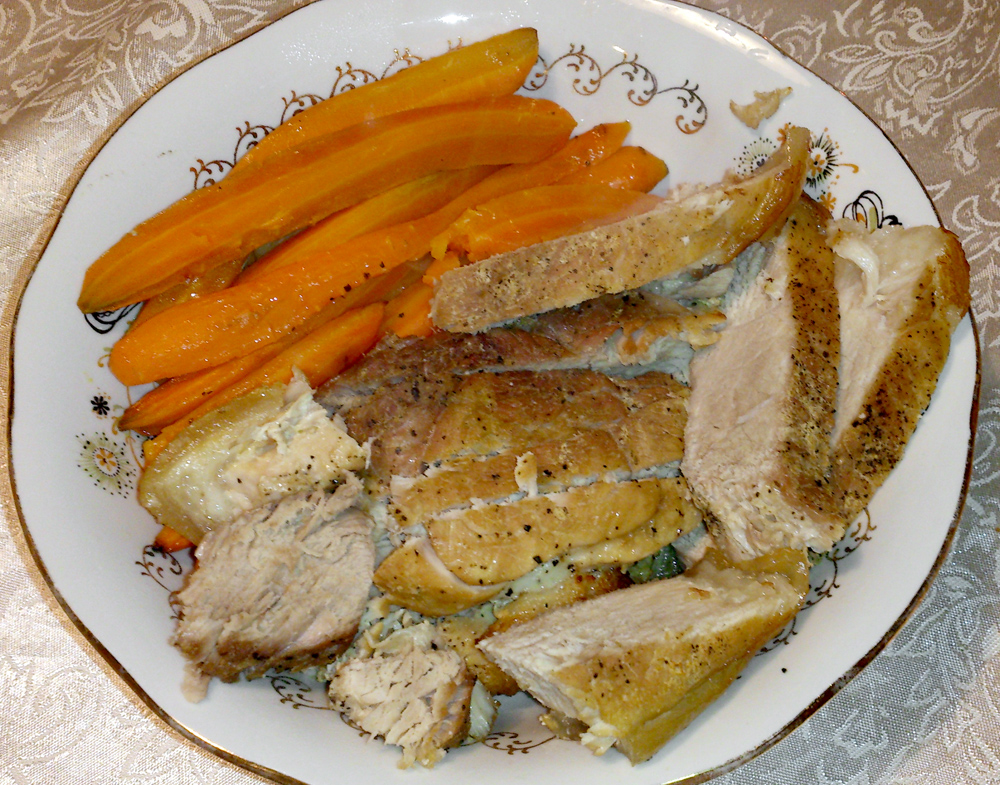 Seapraad, or pork roast, is commonly at the heart of family dinners in Estonian homes. It is often served with sauerkraut and potatoes. Pork roast is especially popular during the Christmas holiday season. This recipe produces a main dish of tender and juicy meat with sweet and savory flavors from apples, carrots and onions. Use a rib-end pork loin for rich, tender meat, and a loin-end cut for a drier, lower-fat dish. Recipe Servings: Serves 8
Prep Time 10 minutes
+ 6 hours resting
Cook Time 3 hours 45 minutes
Total Time 9 hours 55 minutes
Vegetarian
Vegan
Gluten Free
Dairy Free
Kosher
Halal
Ingredients
1-6 lb (2.7 kg) bone-in pork loin
3 Tbsp (45 g) coarse salt
1 1/2 Tbsp (22 ml) black pepper, freshly ground
2 large carrots, peeled and quartered
2 onions, quartered
1 large golden delicious apple, quartered
Directions
Place the pork roast in a large roasting pan and pat it dry. Sprinkle the meat with the salt and pepper. Cover the seasoned meat and refrigerate for 6 hours or overnight.
Preheat the oven to 350°F (176°C). Add the carrots and onions to the roasting pan, arranging some underneath the bulk of the roast and cook for 3 1/2 hours. An hour before the roast is finished, add the apples. Let the roast stand for at least 10 minutes before serving.
Notes
For added flavor and moisture, include a few tablespoons of beef broth in the pan along with in the pork while it is roasting.