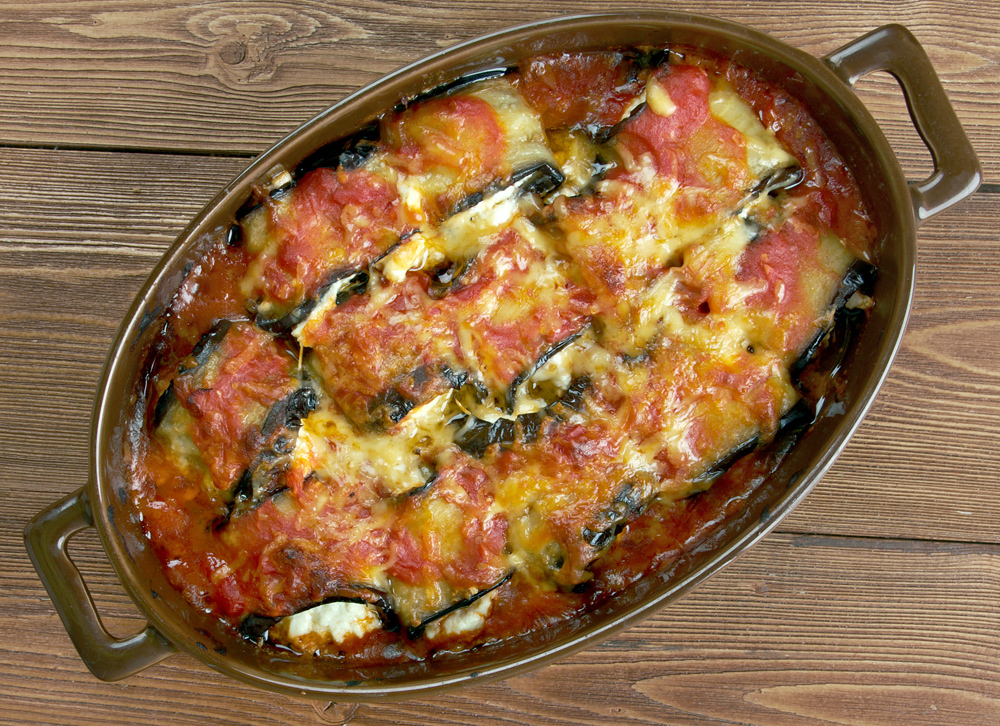 Aubergines, in some places better known as eggplants, are the featured vegetable in this warm casserole dish. Wrapped around a creamy, rich minced meat and cottage cheese filling, the sliced aubergines are baked to a moist tenderness and then smothered in an herbed tomato sauce. The vegetables give the comforting casserole a more complex and intriguing flavor. Recipe Servings: Serves 4
Prep Time 15 minutes
Cook Time 40 minutes
Total Time 55 minutes
Vegetarian
Vegan
Gluten Free
Dairy Free
Kosher
Halal
Ingredients
Tomato sauce:
Directions
Preheat the oven to 400ºF (204ºC).
Prepare the aubergines by cutting them lengthwise into 1/2 inch (13 mm) slices. Place the aubergine slices on a greased baking sheet or one covered with wax paper. Bake them in the oven for 20 minutes.
In a frying pan, heat oil and fry the minced meat. After allowing it to cool slightly, add the cottage cheese, eggs and seasoning to the mixture. Spoon this filling on the aubergine slices and roll them up to form cylinders.
Tomato sauce:
In a large sauce pan, heat oil. Add the chopped onion and crushed garlic cloves and cook for 3–4 minutes, then add the crushed tomatoes and seasonings. Bring the pot to a boil, then reduce heat and simmer for 10–15 minutes.
Casserole:
Cover the bottom of a baking dish with half of the tomato sauce. Add the aubergine rolls and cover them with the rest of the tomato sauce. Serve the completed dish warm, topped with fresh basil as a garnish.